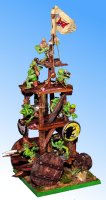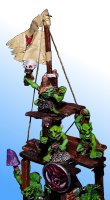 This is my scratch build pumpwagon.
I wanted it to be really BIG. Not the two level of the old one, or the one and a half levels of the new pumpwagon. No, this monster is three and a half levels high. It has a crew of 10 snotlings.
The whole thing is build out of wood, thin cardboard and milliput. The flag is made out of a metal foil. The shields are original goblin shields from a very old goblin box.

---
This chariot did
not
win the third place in the
warhammer-portal
paint competition.
Ok, I have to live with that, but it IS depressing.